Real Estate
The practice of real estate law is divided into two major sub-categories, i.e., real estate transaction and real estate litigation. In general, real estate law deals primarily with residential or commercial real property. Our law firm is experienced and knowledgeable in both practice areas, and can provide the necessary guidance to effectively proceed with all real estate related matters.
Real Estate Transactions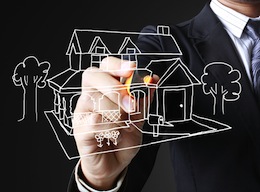 A wide body of federal, state, and common laws govern real estate transactions. For instance, the Fair Housing Act, codified under 42 U.S.C. §§ 3601 et seq., prohibits discrimination in real estate transactions based on race, color, religion, familial status, disability, sex, or national origin. The Department of Housing and Urban Development ("HUD") provides further information on federal provisions governing real estate transactions.
To initiate a real estate transaction, sellers will typically employ real estate brokers as their agents to find a buyer for their property. A listing agreement and commission agreement are prepared and executed between the seller and broker. The buyer and seller will then enter into a purchase agreement that governs the real estate transaction. Real estate brokers and salespersons must be licensed to participate in the buying and selling of real property. In general, state laws govern the broker's and salesperson's conduct and federal and state agencies may provide further guidelines.
The title to property involved in a transaction is an important issue during the transaction. For instance, title to property must be marketable (i.e., no cloud on title), there must be proof of title, and there must not be a third party claiming an interest to the property. Interest in real property is divided into several classifications, including—freehold estates, non-freehold estates, concurrent estates, future interests, specialty estates, and incorporeal interests. Each of these classifications affect the legal rights that a property owner holds and how property will be passed along to heirs and beneficiaries. Each state typically maintains the exclusive authority to govern such classifications.
The purchase of real property will involve several financing options, the most common of which is obtaining a mortgage through a financial institution. A mortgage involves the transfer of an interest in land as security for a loan or other obligation. It is the most common method of financing real estate transactions. Normally, a mortgage is paid in installments that includes both interest and a repayment on the principle loan amount. Failure to make regular mortgage payments results in the foreclosure of the mortgage and eviction from the property. The foreclosure process depends on state law and the terms of the mortgage.
Our law firm handles a wide variety of real estate transactions involving:
Real estate contracts
Escrow instructions
Broker agreements
Option contracts
Letters of Intent
Preparation of promissory notes, deeds of trust, grant deed, or quitclaim deed
Installment land sale contracts
Sale or assignment of real estate interests
Real Estate Litigation
In the event that a real estate transaction does not proceed successfully, the interested parties may initiate litigation to resolve their legal disputes. Our firm is experienced and knowledgeable in the procedures necessary to pursue litigation and as a result we are able to resolve your disputes quickly and efficiently. Additionally, our expertise in alternative dispute resolution—such as mediation, arbitration, and negotiation—allows us to formulate an approach that is tailored to the client's circumstances.
In general, legal disputes dealing with real property are regulated by local, state or federal laws. For instance, under California law, landlords are required to maintain certain standards of habitability. If a landlord violates a warranty of habitability, a tenant may bring a lawsuit asking the landlord to fix issues with the property that prevent a suitable standard of living. Also, the California Department of Real Estate maintains standards of performance for real estate agents who represent buyers and sellers in real property transactions. In the event that a real estate agent defrauds a client, or fails to maintain fiduciary duties, a buyer or seller may file a complaint to collect damages resulting from the agent's failed responsibilities.
We work closely with our clients and the opposing counsel in an effort to resolve the dispute and avoid lengthy litigation. However, when necessary, we are skilled and prepared to handle real estate litigation. Indeed, our experienced litigators collaborate with top attorneys in related fields to achieve the most favorable outcomes for clients.
We handle a wide variety of real estate litigation matters including:
Complex commercial and retail landlord/tenant disputes
Disclosure disputes (known and unknown conditions)
Discrimination in sale or leasing of real property
Eminent domain
Homeowner Association disputes
Judicial and non-judicial foreclosures
Mechanic's lien
Property boundary disputes
Quiet title
Realtor commission disputes
Trespass and nuisance claims