Internet Law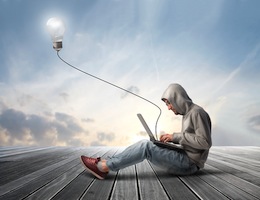 It is our contention that the internet (a/k/a "world-wide-web") is the way of the future. Now, smart devices are taking off more than ever. The progression of the smartphone in the past years has been a modern miracle. The internet touches our lives in ways we could never imagine and will continue to change the future in many ways. However, with the future and a constantly evolving technological infrastructure, comes along uncertainties and a need to use it in a secure and efficient way. With that need, comes an area that could be described as Internet Law or Cyberspace Law, which is a category of law with attorneys who use the rules in new ways to address the issues.
Internet and Cyberspace laws are terms that encapsulate the legal issues related to use of communicative, transactional, and distributive aspects of computer information systems and technologies. In general, the internet comprises of commercial, educational, governmental, and international networks, all of which use the same set of communication protocols.
It is less a distinct field of law in the way that property or contract is, as it is a domain covering many rules and regulations. It is constantly evolving as individuals press the limits of the law, and law makers and judicial officers do their best to adapt. While this may overlap with facets of law, such as venue, jurisdiction, choice of laws, however, it expands much wider. Instead of a person looking into your backyard or hopping the fence, it involves drones and web cameras. Instead of individuals shouting defaming statements on the street, they publish them on Twitter or other forums. Indeed, the internet has created exclusive issues (e.g., cloud computing, crowdfunding, cyberpiracy, cyberfraud, cybersecurity, e-commerce, e-discovery, online privacy, net neutrality, spam) as well as extensive complications with free speech, intellectual property, and technological innovation.
Our law firm provides professional legal services for clients who need analysis of private, corporate, transactional, and regulatory issues related to the world-wide-web and its related sciences or technologies. We work in a wide range of legal disciplines, including, but not limited to, commercial and non-commercial transactions and focus on privacy, security, and regulation. We seek to identify and address issues that are affected by the implementation of new and emerging technologies and to facilitate the creation of infrastructures that promote e-commerce technologies. Our law firm provides practical tools and guidance for clients who regularly deal with technology.
As the digital age forms the current global economy, the law continues to evolve in order to keep pace with technology. As a society, we are increasingly forced to face new challenges or issues. We provide a strong understanding of how the law and related technologies merge to provide solutions. As internet lawyers, we bring years of experience, knowledge, and expertise to the controversies and issues. As the ever-changing technologies provide new and remarkable claims, trying the limits of traditional laws, our clients return to us for legal support and advocacy.